Pełnią taką samą rolę jak zwykłe klawiatury, a więc można na nich pisać i za ich pomocą obsługiwać system i aplikacje zainstalowane na komputerze. Różnica jest w wyglądzie i sposobie ich obsługiwania. Brajlowskie klawiatury komputerowe składają się z ośmiu klawiszy do pisania (można pisać brajlem sześciopunktowym - tak zwanym komputerowym) oraz kilku, kilkunastu dodatkowych, które pełnią role funkcyjne. Układ klawiszy jest tak zaprojektowany, aby oddawał specyfikę budowy znaku brajlowskiego, składającego się z sześciu (lub ośmiu) punktów ustawionych w dwóch kolumnach po 3 (lub 4) punkty w każdej i w ten sposób czynił pisanie bardziej intuicyjnym. Niektórzy niewidomi wolą używać klawiatury "zwyczajnej" inni zaś brajlowskiej, od której często zaczynali w szkole podstawowej.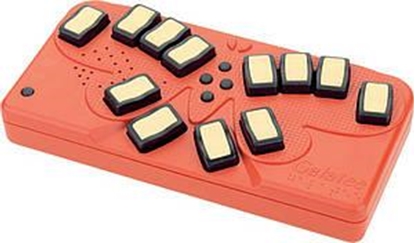 This easy-to-use Braille keyboard will substitute the common keyboard of your PC with only 17 keys. Galatee is a very versatile and handy allrounder, that will guarantee a fast and efficient operation of your computer!
Klawiatura brajlowska specjalnie zaprojektowana do współpracy z urządzeniami mobilnymi. Doskonale współpracuje z iPhonem, czy iPadem, z systemami Android i Windows Phone.