Telefony dla niewidomych i słabowidzących to urządzenia, które wykorzystują osiągnięcia najnowszej technologii by pomóc w codziennym funkcjonowaniu osób niepełnosprawnych. Zostały specjalnie zaprojektowane dla osób, które nie są w stanie lub nie chcą obsługiwać telefonów dotykowych dostępnych na rynku. Są bardzo proste w obsłudze, dlatego są bardzo popularne wśród osób starszych oraz osób które wymagają fizycznej klawiatury.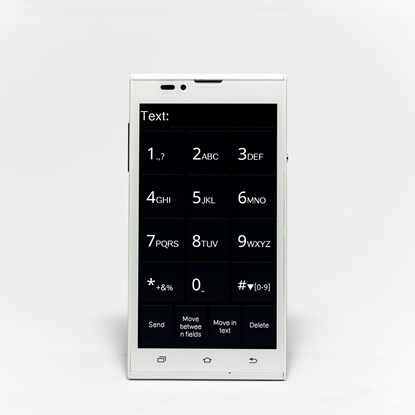 BlindShell 2 to smartfon dla niewidomych i słabowidzących. Dzięki specjalnemu oprogramowaniu BlindShell obsługa telefonu jest w pełni dostępna dla osób niewidomych i słabowidzących. Wykonując w dowolnym miejscu na ekranie proste gesty dotykowe osoba niewidoma może dzwonić, czytać wiadomości, sprawdzać kontakty, ustawiać alarmy czy nagrywać notatki.
The Only Android 6.0 Smartphone dedicated to Visually Impaired. Thanks to triple interface and a number of facilities it is used intuitively.
SmartVision to pierwszy smartfon zaprojektowany od podstaw z myślą o osobach niewidomych i niedowidzących, zapewniający dostępność na najwyższym poziomie. SmartVision udostępnia hybrydowy interfejs użytkownika, który umożliwia korzystanie z telefonu przy pomocy ekranu dotykowego, zintegrowanej klawiatury lub interfejsu głosowego.