Telefony dla niewidomych i słabowidzących to urządzenia, które wykorzystują osiągnięcia najnowszej technologii by pomóc w codziennym funkcjonowaniu osób niepełnosprawnych. Zostały specjalnie zaprojektowane dla osób, które nie są w stanie lub nie chcą obsługiwać telefonów dotykowych dostępnych na rynku. Są bardzo proste w obsłudze, dlatego bardzo popularne wśród osób starszych oraz osób które wymagają fizycznej klawiatury.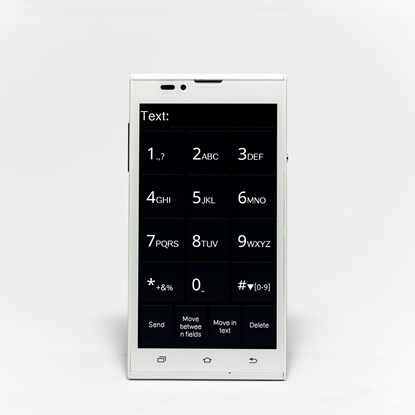 BlindShell 2 to smartfon dla niewidomych i słabowidzących. Dzięki specjalnemu oprogramowaniu BlindShell obsługa telefonu jest w pełni dostępna dla osób niewidomych i słabowidzących. Wykonując w dowolnym miejscu na ekranie proste gesty dotykowe osoba niewidoma może dzwonić, czytać wiadomości, sprawdzać kontakty, ustawiać alarmy czy nagrywać notatki.
The corded phone MARIA MT-512 is a device designed specifically for the elderly, visually impaired and disabled persons. It has large digits on the blue display that make it easy to read and dial a number with no lighting.
SmartVision to pierwszy smartfon zaprojektowany od podstaw z myślą o osobach niewidomych i niedowidzących, zapewniający dostępność na najwyższym poziomie. SmartVision udostępnia hybrydowy interfejs użytkownika, który umożliwia korzystanie z telefonu przy pomocy ekranu dotykowego, zintegrowanej klawiatury lub interfejsu głosowego.