Klawiatura to niezbędny element komputera. To dzięki niej sterujemy systemem operacyjnym i aplikacjami oraz wprowadzamy tekst. Osoby słabowidzące, które korzystają z oprogramowania powiększającego zawartość ekranu komputera mogą mieć także potrzebę używania klawiatury, gdzie jej klawisze są opisane dużymi, wyraźnymi znakami. Są to tzw. "klawiatury powiększone". Niektóre z nich są oferowane jako dedykowane do konkretnego oprogramowania powiększającego. Posiadają wtedy dodakowe klawisze funkcyjne ułatwiające ich obsługę.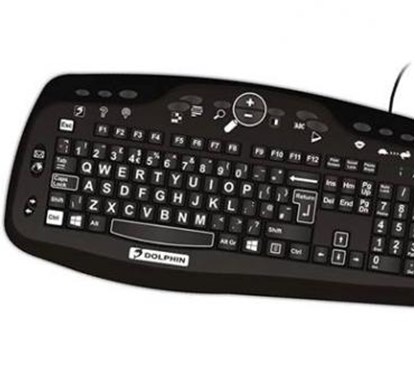 Dolphin Large Print Keyboard to klawiatura stworzona z myślą o użytkownikach programu SuperNova, wyposażona w 18 klawiszy szybkiego dostępu do najczęściej używanych funkcji.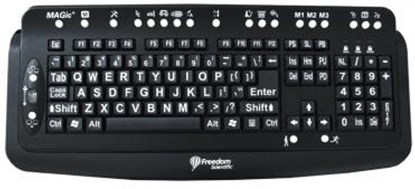 Would you like to work easily and quickly with JAWS and MAGic software? MAGic Keyboard Keyboard offers intuitive access to MAGic and JAWS programs. It is irreplaceable in school and at home! It has keys with high contrast and those which correspond to the most frequently used functions, so you do not need to remember keyboard shortcuts.

Black letters on yellow keys high visibility keyboard. Ideal for partially sighted computer users and those experiencing eyesight deterioration.